By Patrick Riccards, originally published in the August, 2021 issue of Equity & Access
My mother came to this country after her fifth birthday. She started kindergarten as a true English language learner, not knowing a word of English. When she graduated high school, it was expected that she would get a job at the local biscuit factory and find a husband.
For some reason, she was convinced she wanted to go to college. Instead of working at the factory, she worked three other jobs, including one as a secretary at the local university. Why? Because the college would allow her to take one free course every semester, meaning she could earn a college degree after about 50 years working on campus.
Instead, she met my father – a doctoral student on campus – and became a full-time college student after they married. She spent her last two years of college with me in a bassinette next to her in class, the only option for a poor college professor married to a college student.
The oldest of five children, my mom was the first in her family to go to college and the only one to earn a postsecondary degree. She went on to become a 10th grade high school English teacher, earn her master's degree, and to this day remains my harshest editor. She is also the very definition of a first-generation college student, enduring the challenges and struggles and questions that far too many students face today.
My mother succeeded because of the supports and encouragement that she received along the way.
Despite having parents who didn't understand why one would go to college or why a postsecondary education was important, she had my father and his professor colleagues to support her, encourage her, and help her overcome those obstacles. They overlooked her bringing her fat, red-headed baby to class as long as I could stay quiet. They let her take my father's PoliSci 101 class because it was the only section available (and it was the only time my father taught a course with only multiple-choice exams so there were no issues on grading). She succeeded because Buffalo State University, its employees, and her immediate family were committed to her, to her academic path, and her future.
I've spent a career in education because I know from where I came and because I, too, am committed to providing the opportunities, pathways, and supports to learners that previous generations provided to my mother. For me, that commitment has largely focused on K-12 and issues of educational equity. But when the opportunity came for me to work with a university similarly committed to student success in general and the success of first-generation college students in particular, it was a chance I had to take.
Coker University Was Founded in 1908 as a Women's College
Based in Hartsville, South Carolina, it has about 1,000 undergraduate and graduate students representing 33 states and 16 countries. Approximately six in 10 students at Coker are female. Nearly half our student body are students of color, with almost a third of our students African-American. And a growing number of our students are first-generation college goers.
As with many private colleges, the pandemic has served as both pain point and opportunity. We were forced to make short-term adjustments and overhauls, including the development of online learning opportunities, just to keep our doors open for the last 16 months. We were also given the opportunity to scrutinize our mission, goals, and approaches to ensure that our collective work is focused on our students and their needs, both in times of pandemic and afterward.
In late spring, we unveiled a new strategic plan — developed by our employees from the bottom up — that focused on four key areas: student success, work environment and culture, vibrant communities, and financial health. We started with student success because of its role as the lifeblood of a modern university. The remaining three pillars and the metrics behind them are all designed to ensure that we can deliver on that promise of student success.
But what, exactly, does "student success" look like for a school like Coker, one with a growing population of both first-generation students and students of color? It means:
• Recruiting students who are committed to our mission, eager to be part of our community and want to participate in the "roundtable" approach to liberal arts found on our campus.
• Providing a rich network of services to bolster our students, providing one-on-one, continuous advising and support starting before students arrive on campus for the first time and continuing through graduation. This includes a dedicated Student Solution Center, a thriving Student Success Center, and a new Career Services Center (recently launched with a recent $5M investment in the future of our college.)
• Personalizing the college experience so that every student realizes we are committed to them as learners, as individuals, and as Coker Cobras. That personal connection is often the difference maker between those who attend college and those who earn their degrees.
• Emphasizing the importance of internships and career pathways learnings, while providing career services both during and after college to ensure that all our graduates are taking the courses and pursuing the opportunities necessary to achieve their life goals.
• Integrating inclusion and DEI activities and emphasis in every corner of the university, helping all students feel like they belong and that they can succeed. This includes programs like our faculty-led effort on equity in STEM fields.
• Integrating inclusion and DEI activities and emphasis in every corner of the university, helping all students feel like they belong and that they can succeed. This includes programs like our faculty-led effort on equity in STEM fields.
Equally Important, It Means Listening to our Community
When I first arrived at Coker, I would ask students why they came to Coker. After a provoking conversation with our student body president, I recognized I was asking the wrong question. I soon posed the query, "Why do you stay at Coker?," knowing they still have choices and the ability to change even after they start college. And I look forward to asking the equally important, "How can Coker help you achieve your goals?"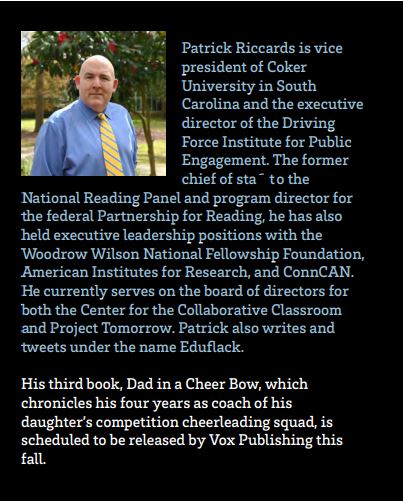 Yes, institutions like Coker University have the chance to provide first-gen students the chance to go to college. They also have the opportunity and, most importantly, the responsibility, to provide those learners the supports, encouragement, recognition, and mentoring to go to college, AND to also successfully complete it. There is no secret sauce or magic elixir that universities can take to do it right. It simply takes hard work, trial and error, and an unwavering commitment to students, their needs, and their success.
It is simple to talk about how postsecondary education is a non-negotiable these days. It is easy to show commitment to first-generation students by enrolling a higher percentage of them. The real work lies in ensuring all of those students have the infrastructure and community necessary to ensure they return for their second year of college and that they ultimately earn their degrees.
First-gen students like my mother had those supports. And at Coker, we are committed to constantly exploring what we can do to ensure the success of each and every learner who applies for admission and ultimately enrolls in classes.
The American Consortium for Equity in Education, publisher of the "Equity & Access" journal, celebrates and connects the educators, associations, community partners and industry leaders who are working to solve problems and create a more equitable environment for historically underserved pre K-12 students throughout the United States.