By David Adams, Senior Director of Strategy at the Urban Assembly
The vitality of our democracy flows through our public school system. Thomas Jefferson knew this as he advocated for the establishment of a common education for all through his "Bill for the More General Diffusion of Knowledge." Thurgood Marshall knew this as he dissented against the Supreme Court's unwillingness to desegregate that system, writing that, "Unless our children begin to learn together, there is little hope that our people will ever learn to live together." And First Lady Jill Biden knows this, dedicating her life and labor to improving this system.
These leaders recognized the foundational role that public education plays in developing citizenship and a concern for the common good. As we welcome the inauguration of a new administration following a time of great unrest and anxiety in this nation, it is time for us to reflect on the role that education can play in strengthening character and nurturing citizenship among those served by our public institutions.
Our national community has been through a lot over the last few years, culminating in an insurrection against the foundations of our society. It is not enough to condemn the actions at the US Capitol; true change follows from converting our outrage to effort, transforming our pain into purpose. Some of our countrymen, untethered to civic institutions that reinvigorate our commitment to the common good, unprepared by an education system to disentangle feeling and thinking, and unable to distinguish between positions that nourish the need to belong from those that are constructive to the whole, have been made susceptible to ideas that would drive a stake into our ongoing pursuit of a more perfect union. Our public schools hold the sacred duty to not only serve the public, but to create the public we serve.
To this end, I ask fellow educators to embrace this time of transition in our nation and recommit ourselves to a holistic public education. Let us commit to educating students who are equipped with the skills, values, and experiences necessary to cultivate consideration for others and a desire to contribute to their community, who know how to recognize sources of error in their thinking and the thinking of others while investigating truths about themselves and the world, and who pursue problem-solving through the lens of the common good. Let us use this transition as a moment to invest in moving our nation forward by fortifying the social, emotional, academic and civic foundations of our nation's youth.
As educators, we can begin to do so by leaning into this moment. The impeachment trial will be a difficult time for our nation. Rather than run away from the unfortunate events that occurred in January or shrink from the opportunity to discuss the challenges in transition of power, we need to embrace these moments with the purpose of bridging misunderstanding and fostering community.
Lead discussions in your classrooms.
Create spaces for students to safely reflect.
Provide a forum where accurate information can be shared.
These interactions are the fire that will forge the democratic skills and values that students will utilize as adults – perspective taking, conflict resolution, personal and social responsibility, and active listening. These skills and virtues, as much as voting itself, are truly the foundation of our American community, of our democracy.
As President Biden exhorted us, "We must end this uncivil war." We must find community.
The day is today. The time is now. We are the change we seek.
---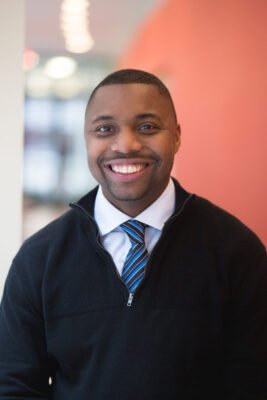 An expert in Social-Emotional Learning, David Adams has spearheaded multiple initiatives to support the social-emotional development of more than 9,000 students at Urban Assembly (UA) schools in New York City.
Starting as Director of SEL in 2014, David created the Resilient Scholars Program (RSP), a unique approach to integrating SEL into curriculum and classroom practices across the UA network. Under his leadership the UA has partnered with organizations like the Black Man Can Inc. and Dangers of the Mind to invest in positive identity formation for youth of color while organizing systems to reduce disproportionality in discipline and graduation rates.  RSP has grown into a national program, serving schools and districts in Los Angeles, Houston, Syracuse, and other cities.
Now the Senior Director of Strategy, David is leading the expansion of the organization into a model provider of school support, with an emphasis on innovation and equity in public education. David sits on the board of CASEL and is an author of The Educator's Practical Guide to Emotional Intelligence, and co-author of a chapter in the textbook, Challenges to Integrating Diversity, Equity, and Inclusion Programs in Organizations. David has spoken and written extensively about the intersection of social emotional development and equity, and is a co-organizer of the Lift Every Voice: The Global Forum on SEL & Antiracism. He is a Civil Affairs Officer in the Army Reserve and holds an M.Ed in Educational Psychology from Fordham University.
The American Consortium for Equity in Education, publisher of the "Equity & Access" journal, celebrates and connects the educators, associations, community partners and industry leaders who are working to solve problems and create a more equitable environment for historically underserved pre K-12 students throughout the United States.