By Valerie Schreiner, originally published in the Jan/Feb 2021 issue of Equity & Access
As someone who's led development of education technology products at multiple companies, I always thought, and believed, that we were doing everything we should do to make our products accessible. We had the mission statements and the policies in place and we actively considered the needs of our user communities in design and deployment.
I thought we were doing everything right until it was obvious that we were not.
That moment came at a previous job when we hosted a webinar on accessibility where we would be demonstrating our teaching and learning technology. I joined the event and saw a blind professor start his presentation. Things were very wrong. He could not advance his slides, could not read the chat. Professionally and personally, the obvious tech failure was a slow motion nightmare.
At that point, I had a choice – crawl in a hole or deal with it. So, I called the professor and said, "We are trying. We thought we were doing well. But it's clearly not working; will you help me?"
Fortunately, he did. He helped lead us to do many good things such as forming an advisory council of users and bringing in reputable, independent accessibility experts. But the most important and beneficial thing he did was help me understand the importance of seeking, collecting and responding to the experiences of real users. It's a foundational principle of accessibility that I've kept with me since.
In fact, designing in and planning for direct user engagement and feedback has become one of what I call my three tenets on doing accessibility in education technology right. The other two are declaring accessibility a non-negotiable part of the company's brand identity and allowing and inviting independent, outside review of your progress. At the time of that accessibility webinar, we were only doing one of the three.
Let me share an example of how feedback from real users makes a difference.
In developing new education software, we were fortunate to work with blind students at the University of Toronto – real students who were really using our products. At one point, one of them said, "I can do all the things I have to do to attend, go to class. I can get all the information I need to function, but I can't do anything that's fun."
In that product, we'd designed feedback icons to allow students to quickly click a smiling face or an angry face, that kind of thing. With that student feedback, we realized that was fun but simply not accessible to all our students. We had created an inferior experience. We built something that worked, not something that was genuinely equitable.
So we went to work and when we thought we'd solved a few of those issues — things we would never have contemplated without real user feedback — I sent a product manager to Toronto to see that same student and record her experience with our changes. We needed to know if we were making progress in doing better. When the student tried our new designs, her face lit up. "Tell your developers this means the world to me," she said.
We showed the video to our entire company. I watched it change our company culture. It changed the reason people in our company were coming to work. Seeing the difference their work could make gave them power and purpose in ways few other things could. It was and still is a big deal.
That's when it hit me that genuine feedback from real people could not just spark improvements or solve market problems, it could help your company at the same time. It's the rare dynamic in which no one loses and everybody benefits.
And, if you will indulge me, I'd like to add two further points about enacting accessibility instead of simply saying you will or want to.
One is that compliance is not enough. No one should have a goal of compliance; that goal is too low. If your company or product is merely compliant, you have not actually done anything. You have not accomplished your goal until a real user says you've met your goal.
Two is that scale matters. When large companies embrace real user input and make changes, they can drive market-wide adoption by forcing smaller companies to catch up. Being more means you have to do more. As the largest education company in our space, it's a position we're honored to leverage.
The bottom line is that thinking you're doing right, just having the words written down, not only is not enough, but it can give you a false sense of achievement. Real users can burst that bubble in real ways and you would do well to encourage them. In my experience, it's the best way to unlock real and necessary improvements in products and perspectives.
---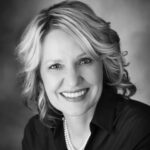 Valerie Schreiner leads product development and marketing at one of the largest education technology companies in the world, Turnitin. She has a long history in the education and edtech industry and has served on the board of several successful technology start-ups.
The American Consortium for Equity in Education, publisher of the "Equity & Access" journal, celebrates and connects the educators, associations, community partners and industry leaders who are working to solve problems and create a more equitable environment for historically underserved pre K-12 students throughout the United States.