State education leaders have ably helped teachers, students and families adapt to three academic years impacted by the COVID-19 pandemic. Now, thanks to a once-in-a-generation appropriation of federal K-12 education aid, chiefs are seizing this opportunity to not only help students recover from the pandemic, but also to create an education system that is more effective and equitable for all students.
The Council of Chief State School Officers (CCSSO) commissioned a review by Education First of how 35 states – those that submitted American Rescue Plan state plans to the U.S. Department of Education by June 30 – are using their funding, and found important trends and examples of how these ideas are being implemented across the country:
1. Address unfinished learning through tutoring, summer programs and other initiatives.
Maine developed the Maine Online Opportunities for Sustained Education (MOOSE), an online platform of project-based learning experiences that address health and wellness and career readiness.
The modules embed learning about the ways gender stereotypes and expectations of conformity limit the development of students of all genders. Models of this kind will address the needs of students who identify as LGBTQ+ as well as students for whom schools have traditionally been unwelcoming.
2. Support both student and teacher mental, social, emotional and behavioral health.
New York will continue its partnership with state agencies that support migratory students and students experiencing homelessness by providing technical assistance to districts to encourage the use of evidence-based best practices that close academic gaps, provide social-emotional support, and use a culturally responsive and sustaining framework.
3. Address educator capacity by providing additional professional learning opportunities and boosting the teacher pipeline.
South Carolina will collaborate with institutes of higher education, school districts and the Center for Educator Recruitment, Retention, and Advancement to develop a pipeline of new talent with a specific focus on attracting people of color to the classroom.
4. Improve data and funding sustainability to better identify individual students and groups most impacted by the pandemic, integrating progress and fiscal monitoring into existing systems and expanding monitoring capacity.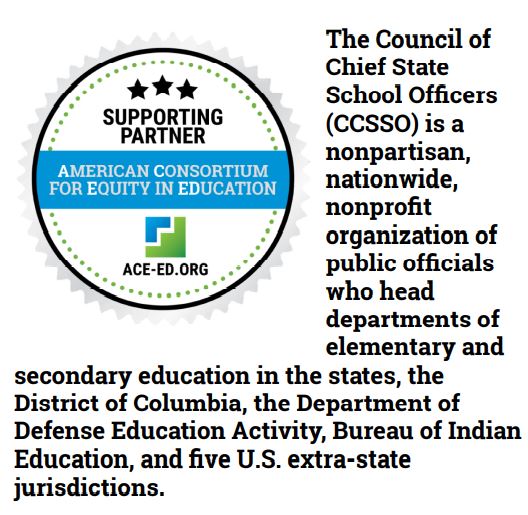 Washington has required its school districts to closely monitor disparate outcomes between different student subgroups as they develop their plans to use federal funds, including by collecting disaggregated data for each subgroup, specifically identifying and addressing disproportionate impacts of the pandemic, and using an equity analysis tool while developing their plans.
The examples included in the report represent just some of the important work states are undertaking, and CCSSO is honored to support state leaders across the country as they use this funding efficiently and impactfully as we work to build a more equitable education system for all children.
To learn more visit ccsso.org.
The American Consortium for Equity in Education, publisher of the "Equity & Access" journal, celebrates and connects the educators, associations, community partners and industry leaders who are working to solve problems and create a more equitable environment for historically underserved pre K-12 students throughout the United States. Follow us on LinkedIn.