by Katrina Long-Robinson, originally published in the June, 2021 issue of Equity & Access
Education in the Age of Automation
We once lived in a world in which people were at the forefront of creation as builders, designers, and manufacturers. Now, options are vast and machines are able to complete many of these very functions. As amazing as technology is, it seems more and more likely that we could be headed towards a world without "work" as we know it, with machines becoming likely candidates to take on many of these human tasks. So, as we embrace a world of technology and automation, college advisors will need to adapt their message and advise differently to students as they pursue undergraduate studies and degrees. But what will they advise, exactly?
In his book, A World Without Work: Technology, Automation, and How We Should Respond, Daniel Susskind discusses what K-12 teaching should mean. As I read the information in the book, I realized that he never really answered his own question. However he did spark my thinking about what message I should be sending as a policymaker, board director and advocate for education.
Just one year prior to educating students during a pandemic, I was asked, "What do you think is the most critical issue facing P-20 education in the state of Florida?" My answer was the following…
"When looking at the P-20 workforce initiatives, we must evaluate the effectiveness of our K-12 educational system and its alignment to the workforce. This requires a diverse team of K-12, college, university, and corporate leaders to design a vertically aligned curriculum to meet the skills needed to create an eclectic workforce.
As educators we have so many questions to ponder. One of my many solutions would be to establish P-20 summits, where stakeholders could examine data and develop strategies to help our state meet the global educational needs along with the national requirements of the students being served currently in the educational system. Then providing unskilled laborers opportunities to train for a more digital-driven work environment, collaborating with K-12 educators to corporate leaders in order to design a targeted training program." Now while, this statement and my thought process hasn't changed much since, it has encouraged me to dig and think deeper as we embrace, what would be a new norm for the work environment and atmosphere… or a lack thereof.
What is the Conversation for Parents With Children 7 to 9 Years Old?
"What do you want to be when you grow up?"
I remember my parents asking me this question constantly during my elementary years. I would respond with a few of the typical answers at the time: a teacher, maybe a lawyer or… what about a famous tennis player?
Just recently, I had the privilege of being a guest on Education Talk Radio with Larry Jacobs. He asked a similar but more pointed question: "Why aren't we encouraging more students to be plumbers, forklift drivers, or electricians?"
The question left me questioning myself, pondering…. in my position, why hadn't I encouraged more students, especially girls, to consider pursuing more male dominated fields? I have since considered the value that those conversations could have. I would encourage parents nowadays to ask their children, "When technology breaks down, would you want to be the person to fix it?"
No, Technology Will not Destroy Jobs in an Instant
However, we need to begin thinking about how we can encourage our young people to be innovative risk-takers. When you think about it, technology has a gradual way of displacing people from menial tasks and activities while paving the way for innovation- creating opportunities for humans to invest their time in tackling tasks that are arguably more valuable or meaningful.
Jobs that will be challenging to automate require interpersonal interaction, and while these jobs will be around for quite some time, they are often nowadays downplayed as service roles and poorly compensated.
In a nutshell, while we cannot foresee what the working world will look like for today's 8-year-old, we can conclude that machines will replace many jobs, or at least complete many of the tasks humans now perform.
So, how can we change the rhetoric now to elevate opportunities like these? How can we excite our children for jobs that a machine simply can't handle?
Should Young People Pursue Education to Compete With Machines?
It is possible that we will face two distinct conflicts about the future of work: not enough work or the "skill mismatch," the inability to complete available work due to a lack of the skill set required.
A shortage of candidates with advanced educational degrees and vocational certifications has been known as one of the main brushings in the labor market. In short, people simply are not qualified or trained to do the work that needs to be done.
In some geographical areas, however, it is not a lack of qualified candidates, but of appropriate job opportunities altogether. Are policymakers and elected officials working innovatively enough to ensure blue-collar roles are as equitable as white-collar roles? Many blue-collar workers rely heavily on attainable job opportunities in their local area in order to achieve a sustainable living and lifestyle. While many school districts are exploring and extending its alignment to workforce opportunities, cities must also work to create options for all working classes.
Is it to get more of the same? Honestly speaking, I'm still not clear. One thing that is clear is that the future of work will look and feel different. However, we know that there will still be work.
If we take a deep dive into the 21st century, and we think it is true that the problem may very well be that there aren't enough jobs and skilled people to task them, then we must start there. For now, the main challenge is frictional technological unemployment, and we are left with the conclusion that attaining an education is still of the utmost importance.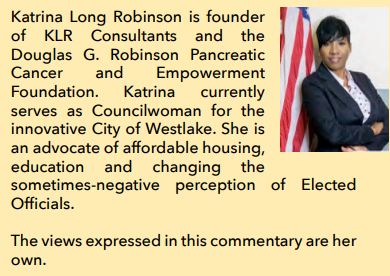 If we take the following idea seriously, that we might be approaching a world with less work for people to do, full stop, which would pose a challenge for 21st century labor force, then there is a bigger challenge for educators and policymakers at the forefront.
We must collectively go back to reestablish the purpose of education overall. Now, in large part, the focus continues to be on preparing people with the skills and capabilities they need to flourish in the working world as we know it. But in a world in which machines take over our now "human" tasks, how can we shift our focus to the soft skills that only we as humans can offer?
For more information or to contact Katrina Long-Robinson, visit https://klr-consultants.com/
Edited by Veronica Torres, Education Consultant
The American Consortium for Equity in Education, publisher of the "Equity & Access" journal, celebrates and connects the educators, associations, community partners and industry leaders who are working to solve problems and create a more equitable environment for historically underserved pre K-12 students throughout the United States.