By Joan Wade, originally published in the August/September, 2021 issue of Equity and Access
As the first COVID-19 vaccines became available in Oregon, making sure that educators were a priority became a goal for Clackamas Education Service District, which serves 10 school districts in the metropolitan Portland area. And to make sure that happened, the agency spearheaded and supported a collaboration between health care providers and educational service
districts that eventually resulted in vaccinations for thousands of area educators in three counties.
Jada Rupley, superintendent of Clackamas Education Service District, explained that the effort came about after one of the group's members, Bob Stewart, superintendent of the Gladstone School District, reached out to contacts at area health care providers. The result was a collaboration between four providers – Kaiser, OHSU, Legacy and Providence – and the three educational service districts serving the metro Portland area.
"The four health care providers quickly decided to pool their resources and co-operate on a single large-scale vaccination clinic at the Oregon Convention Center in downtown Portland," Rupley said. "Less than a month from the partner group's first meeting to discuss the idea, the vaccination clinic launched, and within a month of launch, more than 40,000 educators had been vaccinated at that location."
The initiative was a "significant step forward in re-opening schools to in-person learning in Oregon," she added.
The Clackamas Education Service District played a key role in the effort. Multiple staff members were involved in all aspects of logistics, including:
• Participating in dozens of planning meetings over a short timeline

• Establishing staff prioritization levels and staging

• Messaging and communications

• Clinic volunteer recruitment and coordination

• Liaison with districts and other stakeholders

• Troubleshooting scheduling challenges and other issues that arose during implementation
In addition, staff reached out to the agency's partner districts to ensure they were prepared to ready their employees for appointments, knew when vaccine appointment windows were opening, and stayed updated on constantly changing plans.
The health care partners were grateful for the agency's support. "It has been truly an honor and a privilege to work with you guys. You all have been the absolute best partners as we tackled the daunting task of rapidly vaccinating educators with limited vaccine supply," said Wendy Watson, MPH, Chief Operating Officer of Kaiser Foundation Health Plan and Hospitals of the Northwest. "We so appreciate how collaborative and flexible you all were as we navigated the challenge together."
Trent Green, Senior Vice President and Chief Operating Officer of Legacy Health System agreed. "Little did I know when I told the Governor that we were in full support of her plan to accelerate educators because they are well led, organized and easy to communicate with that you and your colleagues would deliver as well as you did," Green said. "Ramping up our vaccination efforts has certainly been a challenge, but it has been a great pleasure to work with professionals like you who appreciate the challenge but are also willing to lean in and collaboratively solve problems. Thank you again! I am grateful for all you do."
Clackamas Education Service District,
Clackamas, OR clackesd.org
Facebook (facebook.com/clackesd),
AESA Twitter (@clackesd)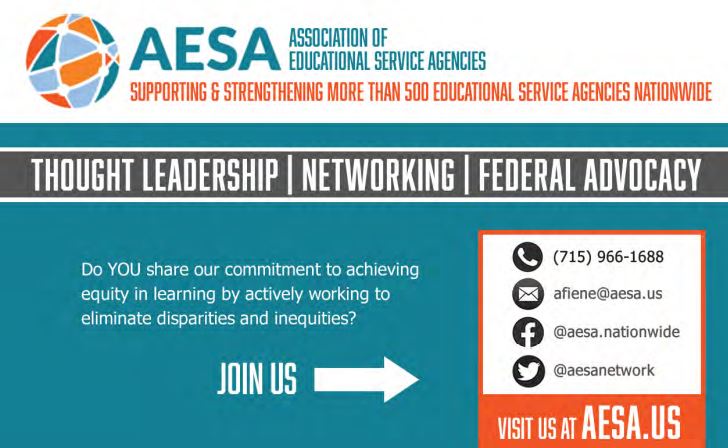 The American Consortium for Equity in Education, publisher of the "Equity & Access" journal, celebrates and connects the educators, associations, community partners and industry leaders who are working to solve problems and create a more equitable environment for historically underserved pre K-12 students throughout the United States. Follow us on LinkedIn.