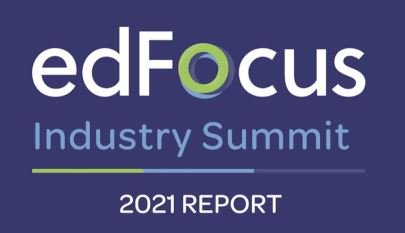 The edFocus Summit, co-hosted by edWeb.net and Eduscape, provided an opportunity to listen firsthand to leading educators about how the industry can help schools find solutions to the unprecedented challenges created by the coronavirus.
Julie Evans, CEO of Project Tomorrow, opened the conference with the observation that, from March to June of 2020, we experienced a sudden shift that has been like an earthquake in education with seismic aftershocks that have brought us where we are today. This is an important moment in the history of education to address what has happened over the past year, and what we hope for the future.
We were able to listen to the unique challenges facing educators in different roles and also learn what they've observed and recommend in common. An important goal of the conference was to bring together leading educators and industry leaders to be in the same virtual rooms together. The ability to use technology to bring people together has been cited as one of the big wins of the pandemic.
To hear their responses to these challenges has been informative and inspiring. Being a good listener is one of the best ways to be a better partner, and this conference provided deep insights into educators' needs.
The American Consortium for Equity in Education, publisher of the "Equity & Access" journal, celebrates and connects the educators, associations, community partners and industry leaders who are working to solve problems and create a more equitable environment for historically underserved pre K-12 students throughout the United States.