By Nichole A. Berg and Kimberly Howard | Originally published in the January/February 2021 issue of Equity & Access
Portland, Oregon: In a city known for its spirit of environmental stewardship, progressivism, and activism, it makes perfect sense that students in Oregon's largest public school district would lead the charge for a systematic development and implementation of K-12 climate change and climate justice curriculum, and that strategic community partners would step up to support them.
In response to student activism in the spring of 2016, the Portland Public Schools' Board of Education passed Resolution 5272, calling for a critical review of district-wide curricular materials, to eliminate outdated texts that offered inaccurate and insufficient information about the climate crisis, and "[directing] the Superintendent, in collaboration with PPS students, teachers, and community members to develop an implementation plan so that there is curricula and educational opportunities that address climate change and climate justice in all Portland Public Schools."
Superintendent Guadalupe Guerrero began his tenure in PPS in 2018. Through an extensive visioning process, PPS leaders engaged thousands of stakeholders in multiple community meetings to envision the future of Portland Public Schools that would create the necessary conditions for everyone to thrive and for graduates to be compassionate critical thinkers, able to collaborate and solve problems, and be prepared to lead a more socially just world.
Climate change and racial justice became focal points identified by the community regarding the current and future context in which students would need to develop and apply their skills:
The Vision is informed by Portland's history and its future aspirations. It makes a bold statement about committing to racial equity and ties that equity to one of the most significant challenges facing our world: global climate change. Portland may very well become a place to which climate refugees will migrate in the coming decades. Now is the time to bring environmental stewardship, foresight, and an objective, informed view of the world to create a bright, sustainable future for our young people. —PPS reImagined, p. 8
To tangibly enhance and support the synergy between the youth advocacy of 2016 and PPS reImagined (2019), and in response to another demonstration of youth climate activists in 2019, the PPS Board of Education approved the hiring of PPS's first-ever Climate Change and Climate Justice Programs Manager and earmarked funds for the following investments:
Creation of a plan to address deficits in Climate Justice curriculum development and support teacher professional development
Investing in professional development
Planning for the development and articulation of a high school climate justice transdisciplinary elective course
Planning for the development and integration of a climate justice curriculum unit for science and social studies across all grade levels K-8
Convening, at a minimum, quarterly meetings of a diverse and student-led Climate Justice advocacy group
(Source:  "PPS Board Response to Students on Climate Justice," 5/28/19)
The seed funding successfully yielded the hiring of the Programs Manager and the initial plan for curricular integration and youth advisory, which was presented to the Portland Public Schools' Board of Education on January 21, 2020.
Strategic Partnerships – PGE Project Zero Offers Funds to Advance the Work and Connect Youth with Industry Experts
To help accelerate this work, Portland General Electric made an investment of $250,000 over three years via the Fund for PPS, an organization that aims to "create, coordinate, and facilitate public, private, and philanthropic partnerships that foster equitable opportunities and benefits for PPS students" in service to the PPS Graduate Vision.
In addition to funding, as part of PGE's multi-pronged, multi-year approach to partnering with the local community–an initiative named PGE Project Zero–PGE committed human resources to support this work as well.  A robust team of content experts was identified to offer students real-world opportunities to learn about the clean energy sector through (at this time virtual) field trips and guest speakers, have mentors from the field offer thought-partnership on student-driven projects and proposals, and discuss the ways in which they approach climate change mitigation and climate justice through their daily work.
Summer Design Institute to Create a Transdisciplinary Climate Justice High School Elective
In order to operationalize two key system shifts in PPS reImagined—Transformative Curriculum and Pedagogy and Support for Global Stewards and Ambassadors (two shifts that specifically name climate change, activism, and racial justice)—and to authentically put students at the center of the work developing the high school elective, the institute design team crafted an innovative application process to identify teams of educators and students from each high school that would collaborate to create the high school elective course.
The teams would intentionally be composed of one science educator, one social studies educator, an optional special educator or ESL educator (to offer multiple instructional lenses) and three to five youth from the school community, specifically inviting students with a range of life and learning experiences (to offer multiple perspectives on the curriculum and instructional practice).  The intent of this cohort design was to ensure, to the best extent possible, a truly human-centered design process that prioritized the consideration of multiple perspectives and students' academic needs over the content of the course.
Teams of educators and students from four PPS high schools joined the design institute, and for 10 days, they collaborated via virtual meetings to apply the Rigorous Curriculum Design process to develop an inquiry-focused transdisciplinary course that addressed both science and social studies standards through  multiple iterations of project-based learning. These meetings were facilitated by a team of instructional leaders from the district central office: the Programs Manager for Climate Change and Climate Justice, and Administrators in Science, Technology and Engineering, Secondary Humanities, and Social Sciences/Ethnic Studies.
At the end of the institute, strategic community partners joined the teams to share their climate justice work and ways in which students could authentically partner with them throughout the course to learn more about how to take action toward climate solutions in Portland and beyond. These partners represented community organizations serving frontline communities (IRCO – Immigrant and Refugee Community Organization, APANO – Asian Pacific American Network of Oregon, and Verde – an organization dedicated to building environmental wealth through social enterprise, outreach and advocacy), the energy industry (Portland General Electric), and public policy (City of Portland).
For the 2020-2021 school year, the course is being piloted in six PPS high schools, one of which is an alternative setting and another that is an International Baccalaureate site.  Students in the course are experiencing the connections between science and social sciences/ethnic studies, as they are introduced to the following units and topics:
Launch Unit: In this unit, students will build community and practice routines and procedures that will support them in engaging in complex topics related to the intersectionality of climate justice, issues of power and privilege, and build skills in empathy, perspective-taking, and personal reflection.
Intro to Climate Change and Climate Justice: Students are introduced to the historic perspectives and experiences of traditionally marginalized groups in the context of global environmental conflicts. They will then research current stances and systems, as well as possible solutions derived from the groups in question (e.g. if examining impact on native groups, examine solutions put forth by that group or that bring justice to that group). Finally, students will design a system or solution and evaluate it using real-world data and supporting resources. They will refine their solution and present it to the community through a medium agreed upon with their teacher.
Climate Science and Climate Resilience: Students use core competing models represented in the 2018 UN Special Report on Global Warming to 1.5 and Indigenous Resilience Plans to identify core science in global systems and the leadership roles of Traditional Ecological Knowledge in understanding the science of resilience planning. Students will understand the scientific relationship between natural systems and human activity. Students will engage in three mini-projects focusing on climate science and impacts using primary science documents.
Climate Change Effects, Impacts and Solutions: Students will research the causes and effects of a local case study involving climate justice, and study how they exacerbate and/or create detrimental impacts upon local environments and communities. In addition to this, students will be asked to draw connections between the local case study and the greater issue of climate change as a whole, as well as study the existing solutions frontline communities are advocating for. Students will share their research and understandings with others.
Climate Justice Politics and Economics: Students will research a specific climate law, policy or legal action, analyze its pros and cons, impact on the environment and on minority/frontline communities. By the end of the unit, students will understand the stances politicians and political parties have regarding climate issues, understand and discuss the efficacy of different bills, their pros and cons, how they interact with each other, and connect to larger changes like the Green New Deal.
Capstone Project: In this unit, students will select an area of interest related to climate change and climate justice and conduct an independent project about it to be shared with the community in a format of the student's choosing.
Moving Forward
Through a Professional Learning Community of the educators teaching the course and students from the summer design institute, the facilitators of the summer institute are offering support and applying lessons learned to future course improvements.  The team envisions the potential for this course to connect students with a myriad of community partners, including Portland General Electric, who can support their learning as they choose their projects and engage in research. They are already learning that there is more content in the course than time for teaching and learning, especially in the current distance teaching and learning environment in which many are operating for now.
The team is looking forward to continued collaboration and revisions that will take place in the summer of 2021, so that the course can be picked up and taught in all PPS high schools. Once lesson plans are finalized and materials and resources are vetted, the course will be made publicly available for anyone anywhere to teach.
---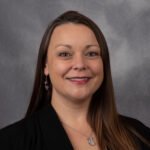 Nichole Berg is the Climate Change and Climate Justice Programs Manager in Portland Public Schools. A former bilingual (Spanish/English) paraprofessional, educator, new educator mentor, and assistant principal, and avid traveler, explorer, and blogger from Madison, WI, Nichole brings a range of personal and professional experiences to her new role in the Pacific Northwest. Follow her on Twitter: @NicholeABerg.
Kimberly Howard is the program manager for Portland General Electric's Project Zero, empowering the next generation to create cleaner, greener, more equitable communities. As part of the Community Impact Team at PGE, she also provides leadership, project management and community engagement strategies for education and workforce development. Kimberly currently serves as chair of the Oregon State Board of Education.
The American Consortium for Equity in Education, publisher of the "Equity & Access" journal, celebrates and connects the educators, associations, community partners and industry leaders who are working to solve problems and create a more equitable environment for historically underserved pre K-12 students throughout the United States.