By Melvin Hines, originally published in the October, 2021 issue of Equity & Access
In 2010, I had the opportunity to travel to Africa for the first time in my life. This, to me, was a monumental experience. As far as I knew, I would be the first person in my family to travel to the "Mother Country" since we first left on slave ships all those years ago.
I arrived as part of a group from a non-governmental organization based in Washington, D.C. called Pact. The purpose of Pact at the time was to conduct capacity building work in 10 different countries each in Asia and Africa.
I remember the feeling I felt when I first landed, seeing just a small portion of a continent whose leaders all looked just like me. I was a stranger in a strange country; but in an even stranger way, I felt home. The city was Dar Es Salaam, Tanzania. The inhabitants were used to seeing people there from foreign countries, and even people from the US. But very few black people from the
US travel to Tanzania, and so many were taken aback by who I was and wondered how I arrived there.
Our work was conducted in two week-long sessions. In between the weeks, we were free to do what we wanted. For my weekend, I decided I wanted to explore the island of Zanzibar and as a result, I had to buy supplies. 6o, early 6aturday morning, I stood outside of my hotel to be picked up by a driver in what was called a "Bajaji". It basically resembled a motorbike on 3  wheels with a backseat and a soft-cloth covering. Many of the drivers and workers in Tanzania did not speak English, so I felt fortunate that this particular driver did, as it made the hour-long drive feel much shorter. As I expected, he was surprised by my demeanor and instantly knew I wasn't from there. I told him that I had come on a work trip from the United States, and his curiosity suddenly turned to excitement as he tried to share with me every possible thing he knew about America.
"I want so bad to go to New York, I want so bad to go to New York," he kept saying in between various facts and stories about the US.
Despite what he wanted to discuss, I couldn't help but notice the fact that he and I were so similar. We both had many of the same interests, we were both around the same age, and we both had longed for years to see a foreign country we had never been to.
On the ride into town, we stopped at an intersection. I saw a young boy — not more than 10 years old — take a nearby stick and impale a melon. He then began slowly wrapping this contraption in some sort of tape or fabric of something. I wondered what on Earth could he be up to?
I didn't have long to think, as the bajaji driver once again commanded my attention. "What celebrities have you seen in America? I hope to get to meet Jay Z!" I laughed at the prospect of myself walking up to rapper Jay Z and having a normal conversation. After a while, I thought it was unfortunately time to deflate his bubble a little bit.
"You know, not everyone in the US is rich or a celebrity. There are many, many poor people — including in New York City." There was an awkward silence. I could tell he was thinking something, and I hoped I hadn't let him down too much. That's when he somberly said back to me: "I know that. But in America I feel like as long as I work hard I can be anything I want to be. And I know I'm a hard worker. I even taught myself how to speak English. But here, the best I can be is a driver."
At this point in my life, I had been through several years of schooling. I graduated from University of Georgia with honors, attended and graduated from Duke Law School, and was currently a student at Duke Fuqua School of Business. Yet, for all I had learned in classrooms, I instantly felt so ignorant, and obtuse.
Deep down, I suppose we both knew that the likelihood of him having the opportunity to see New York City in his lifetime was probably slim. And therein lies the difference. Perhaps we both
started from humble beginnings, but the opportunities and resources that surrounded me made it possible for me to see Tanzania. He didn't have those same opportunities.
Whether we are talking about differing countries, states, or hometowns, one thing is clear: Where we are born (and who we are) has an outsized influence on our opportunities in life.
When I graduated from my high school in South Georgia and announced that I was attending the University of Georgia, the announcement was so exciting that the local newspaper printed my ambitions. So it was quite the shock for me when I arrived at UGA and found that many students had treated it as their fallback school.
Having gone to elite private (and even affluent public) high schools, they were equipped with resources we in South Georgia could only dream of. They grew up in towns where graduate school degrees were common. In my hometown, fewer than one in five had a college diploma.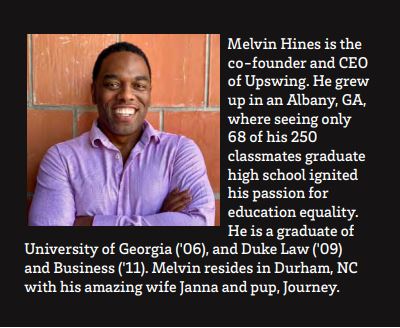 Yet we were all expected to viably compete for the same job opportunities. We are told that our work ethic determines our success. The byproduct of this argument is that everyone who doesn't rise to the levels of Ivy League success — or ever college success — didn't work hard enough; weren't smart enough. We believe this because it allows us to have faith in the system that deemed us winners without requiring us to look down at the shackles on the feet of those we've beaten.
As I'd finished the errands on my trip, the driver turned us around and took me back to my hotel. As we stopped at the same intersection as before, I noticed the same 10-year-old boy now playing a game with several friends.
It turns out he had created a soccer ball.
The American Consortium for Equity in Education, publisher of the "Equity & Access" journal, celebrates and connects the educators, associations, community partners and industry leaders who are working to solve problems and create a more equitable environment for historically underserved pre K-12 students throughout the United States.