By Dr. Karen Henery, originally published in the October, 2021 issue of Equity & Access
During the early stages of the COVID-19 pandemic, Little Rock School District stepped up to meet the unprecedented educational challenges it faced, in part by providing equitable access to proven technology-based solutions across the district.
When students left our classrooms just over one year ago, we had to quickly figure out how to provide an equitable learning approach for all of our students. Knowing that not all of our students would have access to the right learning resources at home, for example, we had to ensure that every one of them could access the remote learning that we were providing.
We also needed to know what experiences they had leading up to the pandemic, and how to scaffold them in a way that would support them as at-home learners. It wasn't a perfect set of circumstances. We put a lot of thought into how this would look and how to make the learning accessible for everyone once we reopened our schools. Here are four steps that helped us achieve those goals:
1. Get parents involved
We reached out to parents and educated them on how to leverage for their kids. It wasn't enough to say, "Okay, we're going to get hotspots. We're going to get devices. We're going to have systems where the parents can sign up to get the device. We're going to make sure the information is provided to the parents in a language they understand." We couldn't presume anything. We had to reach back into some of those systems, make the phone calls, and send the text messages, knowing that some parents wouldn't be online and checking the messaging platforms. So, we had to go back and do it "old school," and teach parents how to use the online learning platforms.
2. Find a program that supports equity in remote learning
We were already using literacy program on select campuses, and this school year the district committed to using it on every elementary campus (as well as a selection of secondary campuses). Schools have had to pivot to virtual learning for everyone, knowing that there could be an entire campus in quarantine because someone had COVID-19 and due to the potential for exposure. With Lexia Core5 Reading for elementary students and Lexia PowerUp for our middle and high school programs, we're able to assign lessons for students when they're home "virtual" days (be it for a quarantine or just a regular "Virtual Friday"). Having the platform has been a great tool in helping us support equity in remote learning.
3. Rethink the meaning of equity
This past year, I've had to rethink my vision around what was equitable, what would be fair, and what would be right. I had to make this shift because I was looking at it in the context of "normal." Well, we have a new normal now; nothing is as it was and I don't think we'll ever get back to where we were. As a result, I've had to grow in my own thinking and expectation of how equity is going to work, how we can meet the needs of our families, and how we can help them feel supported and encouraged in the face of so much loss.
4. Don't ignore the socioemotional impacts
One of top equity challenges, we're also trying to tackle the socioemotional impact of the pandemic, and what it has done to the lives of some of our kids. It's really hard to tap into this because some of it is still unknown. It's not so much that we can't figure out how to respond, but some of our kids have almost gone silent in the face of the stress of dealing with the pandemic. Whether it's been due to a family member's illness, a death, or a job loss, a lot of these stories run deep and need to be factored into the overall equity in education picture.
Managing Uncertainty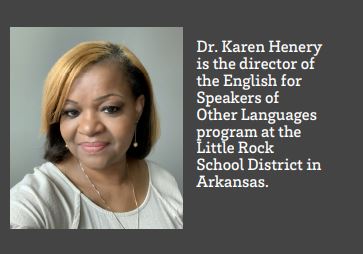 In these uncertain times, it's the children that I'm most concerned about. I'm concerned about what the pandemic has done to their emotional wellbeing, and how it's impacting their emotional growth. As educators, we need to carefully examine how to support them as learners, and how to not be so stringent and rigid in our expectations for what we want them to be able to do. The bottom line is that we just don't know everything that our students are going through and experiencing when they're away from us, and the pandemic really amplified that divide.
The American Consortium for Equity in Education, publisher of the "Equity & Access" journal, celebrates and connects the educators, associations, community partners and industry leaders who are working to solve problems and create a more equitable environment for historically underserved pre K-12 students throughout the United States.